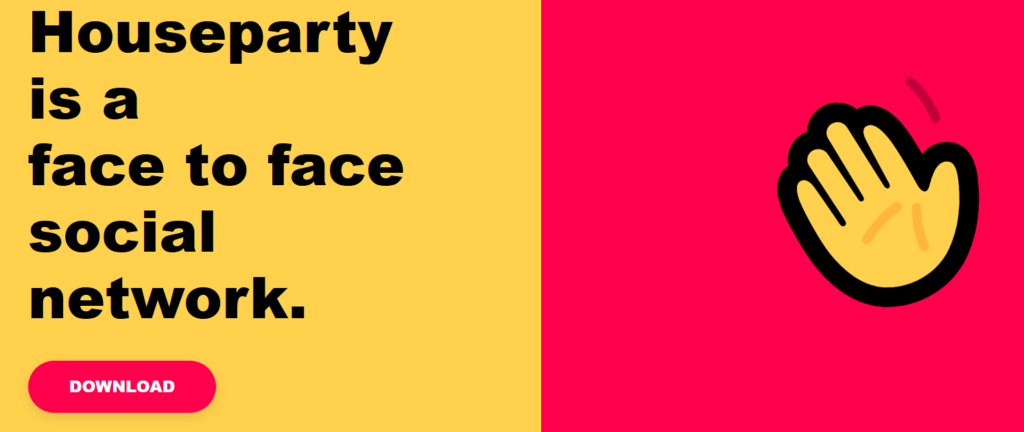 OSINT opportunities during the crisis
The current crisis regarding the Coronavirus (COVID-19) resulted in more people working from home and being at home worldwide. This also means that people will do more digitally: according to Microsoft, the use of Skype has increased by 70% compared to last month. People will do more digitally not only for work, but also for private things and relaxation. Mobile applications such as Houseparty are a useful response to this development. And these developments are also interesting for OSINT investigators like you.
The Houseparty App
According to its creators, the mobile application Housepartyis a "Face to Face social network". Through the app, users can become friends with each other and make video calls with each other in one joint session. And in addition to the possibility of joint video calling, the app also offers users the opportunity to play games with each other. For example, users are shown questions on screen, where the user with the most correct answers wins the game. A nice idea, right?
OSINT & Houseparty
The Houseparty app is not only fun for anyone looking for some distraction and relaxation. The app also offers many fun options for OSINT investigators. For example, you can find other users based on a username, phone number or specific location. And if you are lucky, you may even be able to join a house party.
Houseparty installation
The Houseparty application is suitable for iOS, Android, MacOS and Chrome. This means that you can use the application via a mobile phone or via the Google Chrome web browser. In the example below, we used the Chrome version (an extension is also available). To use Houseparty in Google Chrome, simply click on "Chrome" on the website www.houseparty.com. The login screen below will appear. You can then create an account via "Sign up". Do not use data that can be traced back to you personally.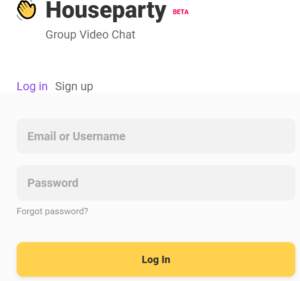 After you have logged in, you must give the application a number of permissions. For example, the application requires mandatory access to your camera and microphone. Turning on a camera and microphone obviously goes against all privacy advices. For this reason, we strongly advise you to consider whether you want to use this application in your OSINT investigation.

Attention: your camera and microphone will be switched on immediately as soon as you continue! Use a webcam cover to shield your camera and ensure that your (built-in) microphone cannot make recordings.
The Houseparty home screen
After you have logged in, your camera and microphone are switched on. You can mute your camera and microphone by clicking on the icons. The screen does not actually contain that much relevant information. Via the gear icon you can select which camera and which microphone you want to use, via the lock icon you can close the party for others and via the computer icon you can share your desktop. We have not investigated exactly what information is collected and logged on the Houseparty servers, because that is not the purpose of this blog post.

Search for users on Houseparty
On Houseparty you can search for users in different ways. For example, you can find users by using a username, email address and phone number. You can also find users who are near you. You can read more about this below.
Search by username
To be able to search for users by user name, use the Houseparty search filter. In the example below we searched for users with the name "Tomas". The search function works by name as well as by username. This means that in the search results users are shown who have "Tomas" in their name and/or in their username.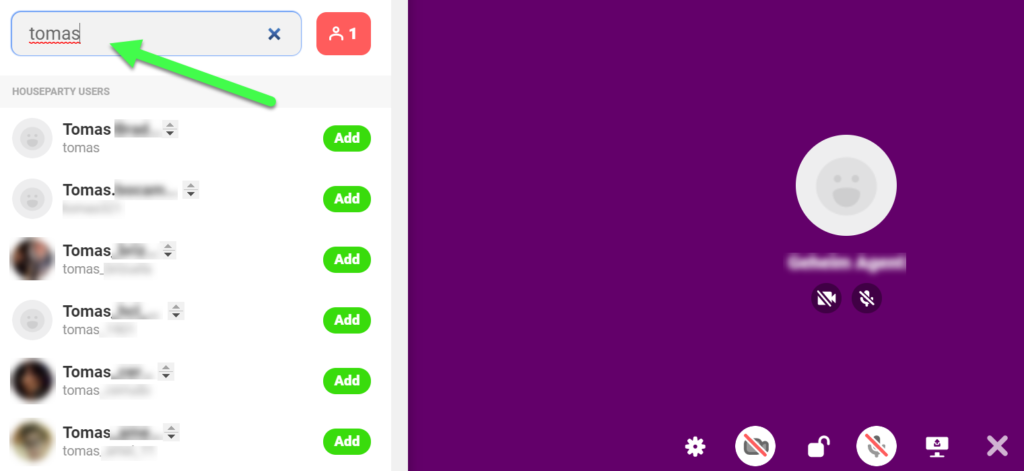 You can then click a profile to open the user profile. This gives you information about the user's name, the user's username and the user's profile picture. With this pivot points you can search further on other websites and social media. After all, users may also use his/her username or profile photo on other websites and/or social media platforms.
Enlarge a user's profile picture
Do you want to enlarge a user's profile picture? Then right click on "Copy address from image".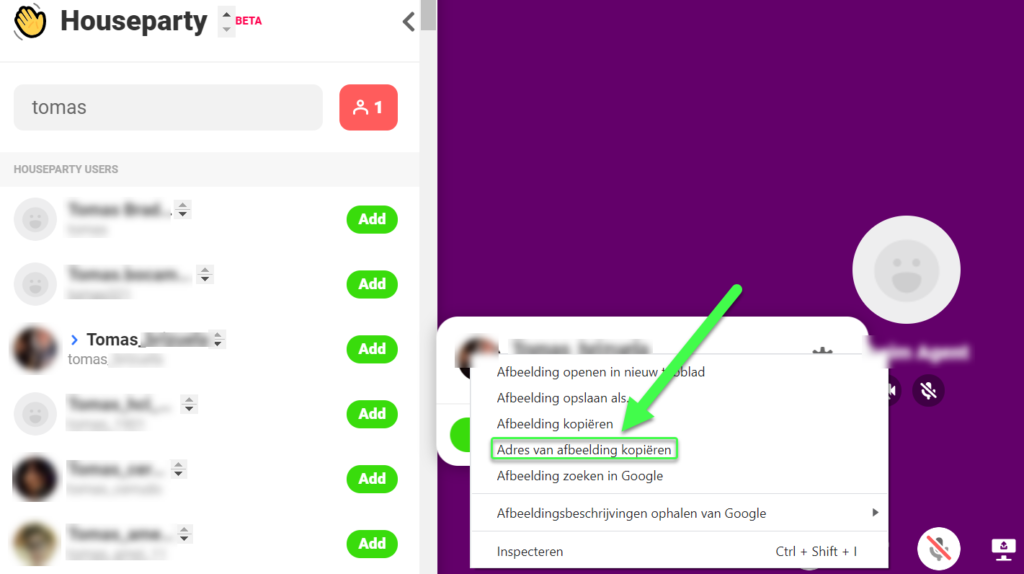 Open a new tab and paste the image into it. Click "Enter" and the profile picture will be loaded in a larger format. You will also immediately see where the profile picture of Houseparty is stored, namely on the server of res.cloudinary.com. Do you want to view the photo in an even larger format? Then change the part "h_300, w_300" by for example "h_800, w_800".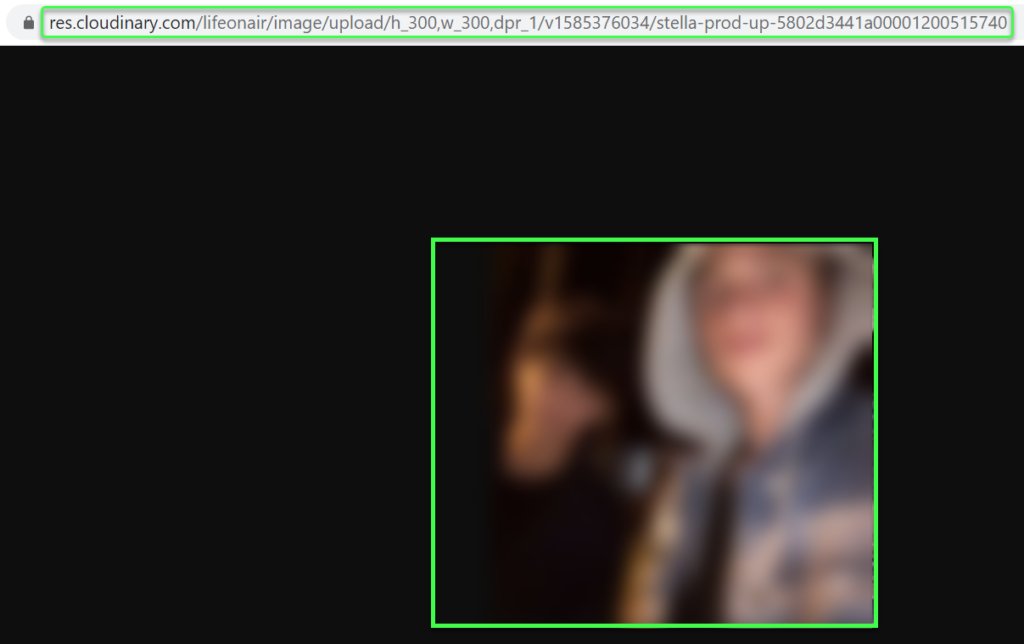 Search via the Houseparty mobile application
Many Houseparty users have entered an email address and telephone number when creating an account. An email address is required to use the app, a phone number is optional. To search for users based on a phone number or email address, you need the Houseparty mobile application. This means that you cannot perform this step via the web browser. The example below uses the Android Emulator Bluestacks.

Search by phone number/email address
If you have launched your mobile phone or Android Emulator, first click on the plus icon (step 1). Then click on "Add New Friends" (step 2) to add friends. After that, you will be given the choice to add friends based on their name, based on your phone contacts, based on your Facebook contacts or based on your current location. Here you select the option "Add from Contacts" (step 3). If your telephone contacts have an account on Houseparty, you will now see this automatically.

Do you not have telephone contacts yet? Please enter your target's phone number or email address into your phone contacts. Please note: only do this in a clean telephone or in a virtual telephone to avoid synchronizing your private or business contacts.
Search by location
Do you want to search for users based on your current location? Then instead of the "Add from Contacts" option, click the "Add Nearby" option. You will now be asked to give permission for location sharing. Please note that this may reveal your current location. We therefore advise you to first spoof your location to another fictitious location, namely the possible location of your target. You can spoof a location via an Android Emulator via the built-in "Location Provider". If you use a separate mobile phone, you can also download a spoofing app. Also read our previous blog post to find Telegram groups based on a location.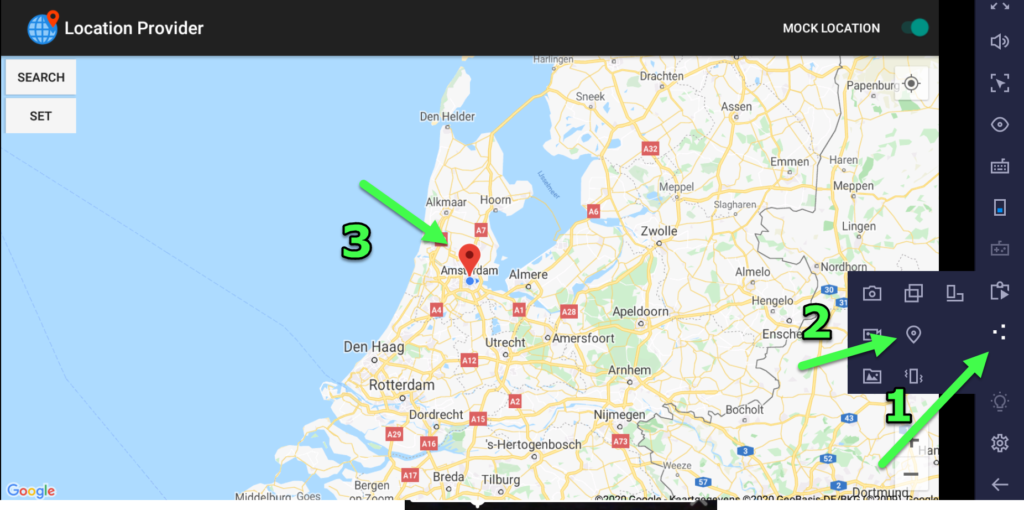 The users who have their location turned on and the "Add nearby" feature turned on will now be automatically displayed. You now know that the users you see are near you, but it is not entirely clear how far the users are from you. Keep in mind that other users can also spoof their location.
Finished the investigation?
Have you finished your investigation? Do not forget to reset certain permissions. In Google Chrome, do this as follows:
Go to chrome://settings;
Under "Privacy and Security" click on "More";
Click on "Site Settings";
Adjust the permissions to your preferences.
It can also be useful to clean your cookies!
More information?
OSINT investigations may be broader than you think. Criminals, fraudsters and terrorists also use websites and social media. It is up to you as an investigator to think about which platforms are used by your targets. Do you need support in your investigations? Or do you want to learn more about internet investigations? Please contact us.