How can I find the ID of an user on Instagram?
Just like on Facebook and Twitter, every user on Instagram has an unique user ID. You might need this user ID in when you want to request information about an user or when you whan to check if you are investigating the right person. After call, users can change their username which can make it harder to monitor and follow them. When you are in possesion of an user ID, you can always find the user that is associated with that ID, even if the user has changed its username.
Manual or automated search?
At our training events, we often emphasize that we are not a big fan of using tools. Although it is very easy to use a website, script or browser extension everywhere, being able to do something yourself is of course much more fun (and safe!). Right?
If you do something manually, you also leave no unwanted traceswith the creator of a tool or service, you are not dependent on a tool and you can also explainhow you arrived at your search results. And if you can do something yourself, you can sometimes do more than a tool can. For example, write a (better) tool yourself.
We are certainly not saying that you should never use automated tools. But at least always think about what you are doing. Below we show you how you can find a user ID of a user in an automated and manual way. We will also explain to you how to return from an ID to an user.
Find an Instagram user ID manually
Step 1: navigate to your target account. We use our own account for example: Aware_Online.
Step 2: right click on "View page source"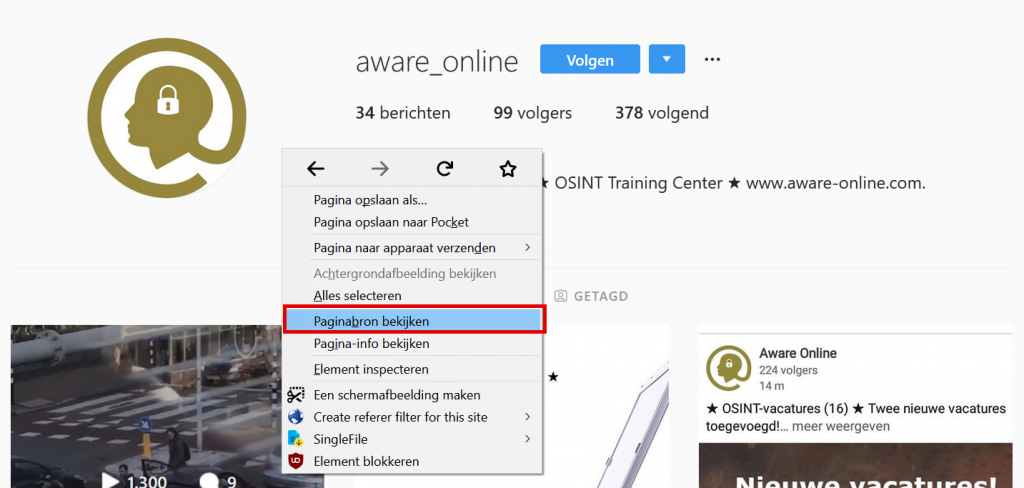 Step 3: somewhere in the text of the page source the user ID of the user "Aware_Online" is displayed. The question is: where? What we do first is to open the Find function to search for text. We do this by typing in Ctrl + F. A search screen at the bottom left of our page appears.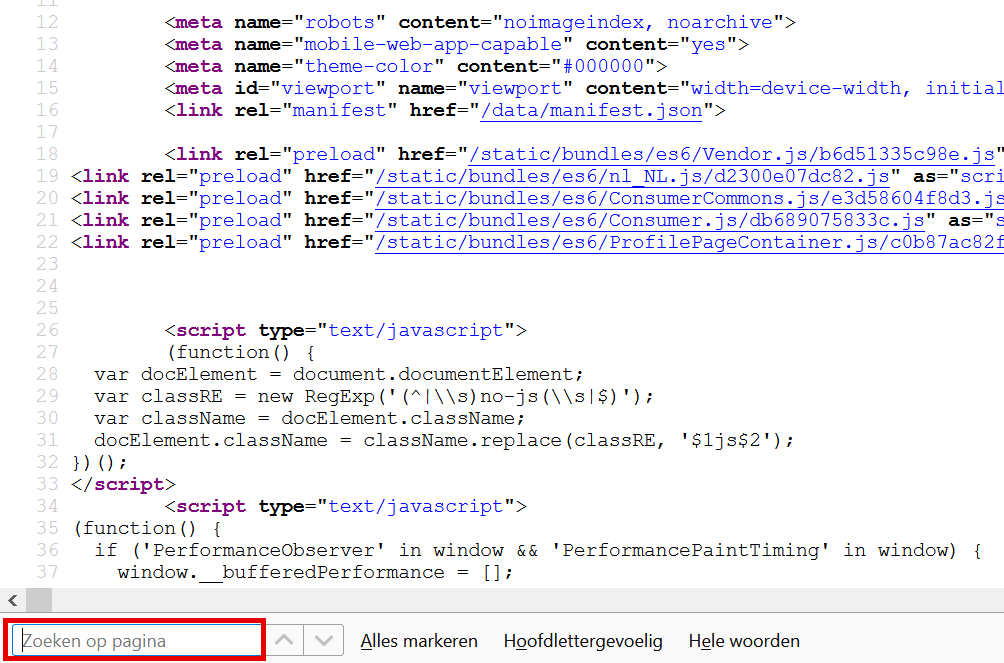 Step 4: in the search bar we enter the text "Profilepage_:". Part of the text is now highlighted. The number series that follows (4858438147) is the unique Instagram user ID of the user Aware_online. If we change our name and username, you can simply find us again based on this user ID. You can read how to do this later in this article.
Find an Instagram user ID with an automated tool
There are various websites and tools that you can use to find the user ID of an user on Instagram. For example, you can enter a username on the Codeofaninja.com website, after which you will see the ID of the relevant user. Other websites include Commentpicker.com and Thumbtube.com. Via the website Otzberg.net you can find the ID of the user based on a photo on Instagram.
Do you prefer to use browser extensions? Then the Google Chrome Helper tools for Instagram extension might be something for you. With this tool you can map more profile information and automatically download lists of followers.
Find an user by an ID
Good, you have found an user ID. This allows you to map more information about the user and you can still find the user if the name or username of the account has been changed. But how exactly do you do that? We explain it to you.
Step 1: click on this link: https://i.instagram.com/api/v1/users/id/info/
Step 2: replace "id" with the user ID of an user on Instagram. We have used the ID 4858438147 of the user Aware_online found above. Click on enter and you will now see the "username" (aware_online) and the "full_name" (Aware Online) of the user.

More tutorials?
Do you want to know more about how you can conduct investigations on Instagram? Do you have tips for new blog posts? Or do you have any additions to this article? Please let us know!