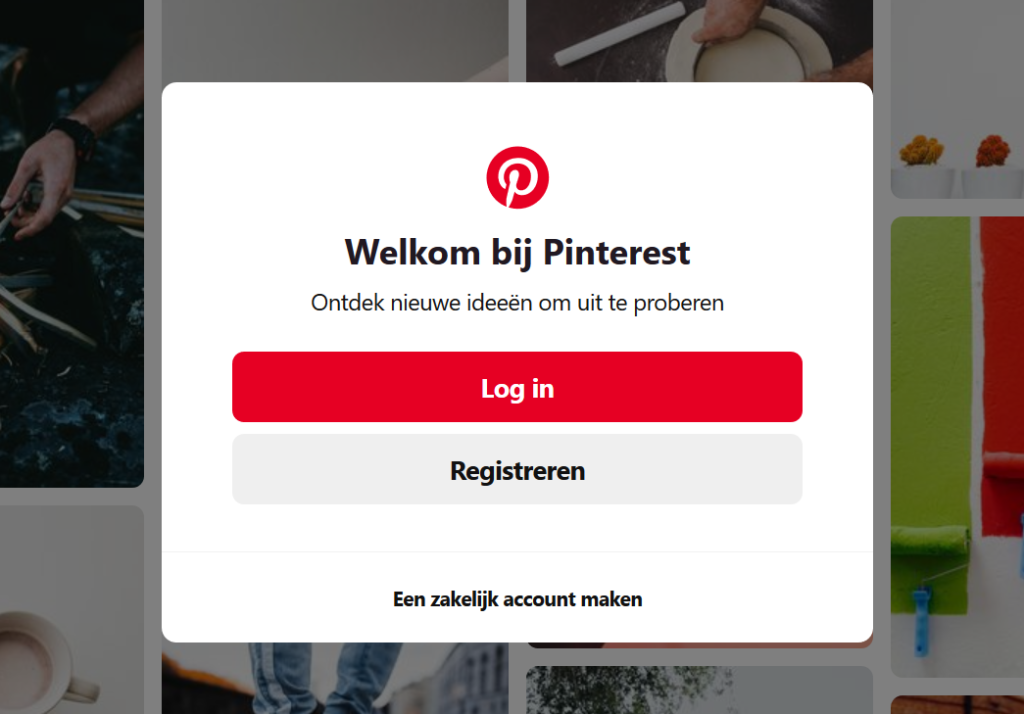 OSINT investigation on Pinterest
What information can you get from Pinterest?
Pinterest is an American social networking site with millions of users worldwide. The company, which was founded in 2010 and is listed on the stock exchange, is known for its digital bulletin board function: users can pin images online ("pins") on their own bulletin boards ("boards"). The purpose of this is that users can view these pins again at a later time. Users can also pin pins from each other or work together on a pin board.
Pinterest in The Nederlands
According to figures from the annual National Social Media Surveyof Newcom Research & Consultancy, it appears that Pinterest in the Netherlands in 2019 had approximately 3.5 million active users. For comparison: Pinterest has more users than Snapchat (around 2.8 million) and Twitter (around 2.9 million). When it comes to the number of daily users in the Netherlands in 2019, Pinterest was good for around 717,000 users a day.
What information can you get from Pinterest?
We are regularly asked what information can be extracted from Pinterest for OSINT purposes. This can be more than you think. A Pinterest account may contain the following information, among other things:
An account name;
A username;
A profile picture;
Profile information;
Followers;
Following;
Boards;
Pins.
Name & username
Users can enter a name and username on Pinterest. Unlike the account name, a username on Pinterest is unique. By this we mean that several people can have the account name "David", but that only one account can have the username "David01". Account names and especially usernames can be very valuable pivot points for OSINT investigations. For example, usernames often contain interesting data such as birth data, full names or middle names or even a place of residence or place of birth.

In addition, usernames can be useful for mapping other accounts: many people also use a username for other websites and social media platforms. Of course, the more unique a user name is, the more likely it is that the same user name on another platform belongs to the same person (although this is of course not necessary!). On our page with OSINT tools we have a number of useful websites with which you can conduct further research into usernames. You can also use our custom search tool to do investigate usernames automatically. The usernames can be found in the URL of an account.
A profile picture
A profile photo is of course interesting because the photo may contain interesting information about your target. So take a good look at the photo to get more information and don't forget to enlarge the photo first. You can do this by right-clicking on the profile photo, by copying the image location and by pasting it into a new tab. In addition to the profile photo possibly containing relevant information, it can also be interesting to see if the profile photo (or the person depicted on the photo) appears elsewhere on the internet. For this you can use a so-called reverse image search, in which you use, for example, search engines such as Google, Bingand Yandexor a website such as TinEye.com. You can of course also use browser extensions such asSearch by Image and WhoStoleMyPictures.

Profile information
Some users on Pinterest have profile information on their account. For example, the account below shows the location "Amsterdam, Netherlands" and the information "Photographer in Amsterdam". This information might tell you something about your target, so analyze this information well.

Followers and following
On Pinterest, "Followers" are other accounts that follow your target and "Following" are the accounts that your target follows itself. The account below has 79 followers and follows 187 other accounts on Pinterest. Both the followers and the followers havea relationship with your target account and are therefore interesting for your investigation. Followers and followers may be friends, relatives, colleagues and / or acquaintances of your target. You may be able to use the accounts of these users in your investigation to find out more about your target. Note: to view the followers and the following of an account you need to be logged in with a (fake) account!

Pinboards ("Boards")
The pinboardsof your target often don't seem very interesting at first. However, the "Boards" of your target can be very interesting. For example, if we look at the pinboards of the user below, we see four pinboards named "Webshop For Lovers …", "Project Blaricum 2012", "Bedden op maat" and "Tafels op maat". Of course, this user did not just create these pinboards, because the user probably has a certain relationship with these pinboards. Possibly this user lives or works in Blaricum and possibly this user creates furnitures (of course that is not necessary at all!). Very likely the pinboards tell you something about your target. "You are what you like", we hear a lot.

Pins
The "pins" on every pinboard are of course also interesting. You can open the pins by clicking on a pinboard. For example, the "Project Blaricum 2020 …" pinboard has 8 pins including the pins below. Above the pins you will first see a general description: "Project in collaboration with interior architects". This description says something about the pins. Each pin is an image (or video), which image you can pivot further on in your investigation. At the end of every pin there is a description and at each pin "tags" are placed.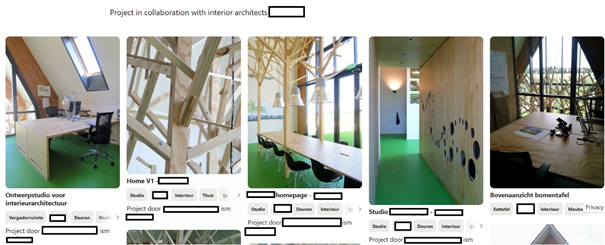 Finding users on Pinterest
How you search for users on Pinterest depends on whether you are logged in with your (fake) account or not. If you are not logged in with your (fake) account, you will see the message below when you visit www.pinterest.com. We explain below how you can search for users without and with an account on Pinterest.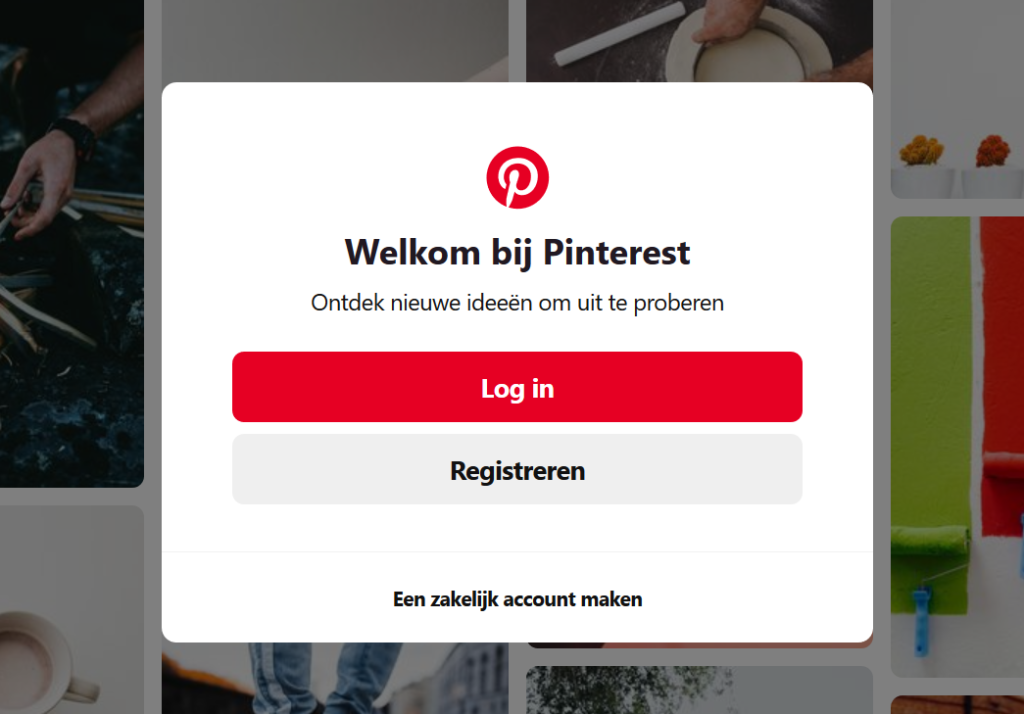 Search for users – Not logged in
If you are not logged in with your (fake) account, click on "Users" at the bottom of the page. This will take you to Pinterest's "People Directory". In this directory you can then search for "Users", "Collections" and "Topics" by clicking on letters of the alphabet and scrolling through the results.

Another way to search for users is by clicking on "Log in" and then on "Forgot your password?". You can then search with a keyword after which Pinterest shows you a list of suggestions. You can also directly access this page via www.pinterest.com/password/reset/.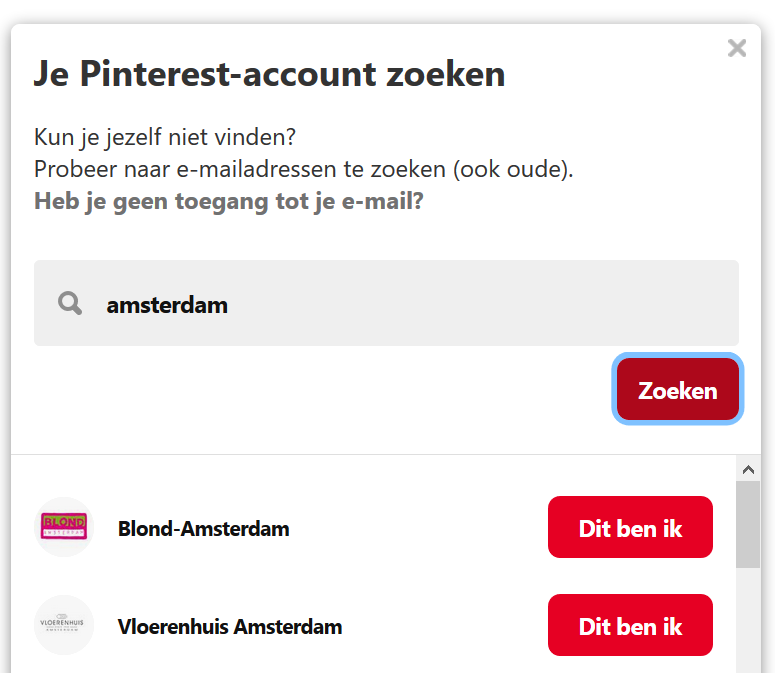 If you want a more targeted search, it can be useful to search for users via a search engine such as Google. Via a search engine you can search for other keywords in addition to a name. For example, you can specify a location, which does not work well in Pinterest's search filters (only if a keyword is in the account name). The following shows an example of searching for a user with the name "Eric" on Pinterest which users have "Amsterdam" somewhere on their profile, on a pinboard or in a pin. You are of course dependent on whether and how the search engine in question has indexed the information on Pinterest. Users on Pinterest can specify in their profile settings that they want to hide their profile from search engines.

Search for users – Logged in
Are you logged in with your (fake) account on Pinterest? Then finding users is easier. At the top of the page there is now a large search bar which you can use to search for "Pins", "Product pins", "Videos", "People" and "Boards" based on keywords. Do you want to use a mobile phone or Android Emulator? Then finding users works about the same.

Want to know more about Pinterest investigations?
Do you want to know more about how you can search for information on Pinterest? Please contact us or register for one of our OSINT training courses. We like to help you!