Reverse Image Search: investigating images
When investigating websites or profiles on social media you will often come across images. We will describe how you can use those images in order to find matching or similar images on the internet.

Image you find an image on a target website. You now know that it is possible to investigate whether matching or similar images are present at other websites or social media profiles. This method to investigate an image is called a reverse image search. Finding matching or similar images on other locations on the internet might be a valuable resource for your investigation. We will explain how to conduct a reverse image search.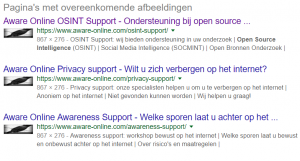 Click on the websites on the side and fill in the image image location (URL) of your target image. The websites will help you to find matching and similar images of your target image. Using multiple search engines will have an impact on the amount and relevance of search results.
Don't you know how to find the image location? Or don't you know how to use the aforementioned websites? Please read the following tutorial.
Investigate an image in 6 steps
Whenever you come across an image on the internet, you might want to find out whether this image can be found on the internet elsewhere. This is possible with a technique called reverse image searching. By identifying other websites and social media platforms that contain the image, you gain more relevant information that might be of any help in your investigation. To find multiple websites, please take the following steps:
STEP 1: navigate to the target website. For example, we will investigate an image on our website www.aware-online.com.
STEP 2: find the image you want to investigate. Right click on the image and select "Copy image location". Click here for an example.
STEP 3: open a new tab and paste the copied image location. When you have pasted the correct image location, the image will now be shown in a larger format. In addition, the given name of the image might be shown in the URL. Click here for an example.
STEP 4: navigate to images.google.nl and click on the black camera icon. Click here for an example.
STEP 5: you now have two possible options. Option 1 is to paste the Image URL and option 2 is to upload an image. Because your target image is located on a website, choose option 1. Click here for an example.
STEP 6: paste the copied image location in the search bar and hit "Search image". Click here for an example.
READY: when scrolling down, you will see "Pages with similar images" (of course only when Google has identified similar images). When you see your target image, you can click on the image to visite the location of the image. Since march 2018, you will also see 'captions' next to the identified images.Click here for an example.
The aforementioned information applies to the situation where your image is stored on a website or social media platform. However, the technique of reverse image searching als applies to hardcopy images and videos and to edited images. More information about this will be published in another blogpost.
In the tutorial above we explained how to conduct a reverse image search through the search engine of Google Images. However, there are more websites and tools that provide the same functionality. For example, take a look at Bing Images, Yandex Images and TinEye. Because every search engine has its own database, we advise you to include multiple search engines into your investigation.
Using tools on this page will forward you to websites and services of thirdy parties. Aware Online Academy has no interest in these websites and services and Aware Online Academy is not responsible for its use.
In case you would like to have more information about how to investigate images, we advise you to have a look at our list of OSINT tools for images and videos. Do you have any comments to this article? Please let us know!