Find tweets posted from a specific location
Some users on Twitter consciously or unknowingly send their exact location when they post a Tweet. These geolocations can be very valuable for us as an investigator because they can provide us with information on where a user may be residing.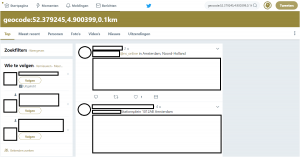 Until recently, every user on Twitter had the option to turn on the sharing oflocation data when sending a Tweet. If this function was switched on, then the exact GPS coordinates were sent with which could reveal the exact location of sender of the Tweet. And it is precisely this information that is very valuable to us as an investigator. In this article we explain how you can map the Tweets of a specific location. In another article we will discuss how you can retrieve the location data of one specific user.
Determine the GPS coordinates of a location
To find the GPS coordinates of a specific place, complete the following steps.
STEP 1: navigate to maps.google.nl and enter the address from which you want to map the Tweets in the search bar. We have used the "Amsterdam Central" location as an example. Click here for an example.
STEP 2: click with the right mouse button on the red location icon and then click on "What is here". Click here for an example.
STEP 3: you will now see a location description appear at the bottom of the screen and GPS coordinates immediately below. Click on the GPS coordinates. Click here for an example.
STEP 4: you should now see the GPS coordinates on the left of your screen. Copy the lower GPS coordinates, you will need these to be able to search by location in Twitter. Click here for an example.
Enter the GPS location in Twitter to find messages from a specific location
In the previous steps you have copied the GPS coordinates of the location that you want to investigate. Go through the following steps to map the Tweets that have been sent from this location.
STEP 1: log in to your (fake) Twitter account (logging in is not necessary).
STEP 2: Enter the following code (without quotes) in the Twitter search bar, replacing the latitude (LAT) and ongitude (LON) of the GPS coordinates with the coordinates that you copied yourself: 'geocode:LAT,LON,0.1km. Make sure there are no spaces in the code, and choose the size of your search area at the last bit after the comma. If you enter 0.1km, this means that you will see the Tweets in a radius of 100 meters from the location you entered. We have entered as an example 100 meters from Amsterdam Central: 'geocode:52.379245,4.900399,0.1km'.
THAT'S IT: if you click on enter you will see the results. The Tweets that you will see are located a maximum of 100 meters from Amsterdam Central. Click here for an example.
The Tweets that you see are from the users who had their GPS location sharing turned on for the specific message you see. If users have their location switched off in later Tweets, you may therefore still be able to find certain Tweets whose location sharing was enabled at that time. You will not see Tweets from users who have disabled location sharing.
There are certain (paid) tools that can map location data of Twitter users (and of other social media) and make searching based on geo locations possible. Examples are Echosec and Warwire.
Do you want to know more about how you can conduct safe, in-depth and effective research on Twitter users? Or do you have any additions to this article? Let us know!